80s Retro Party DJ & 80s Props Hire
Nobody can do 80s Retro party like we do. AO Retro Music is in high demand for the fun music from the 80s. All the pop, disco, rock hits and one hit wonders of the 80s.
Everybodys favourites from Whitney Houston, Wham, Duran Duran, Elton John, Phil Collins, U2, Toto, Bon Jovi, Dragon, The Church to the Choirboys or the huge One Hit Wonders early in the 80s decade. You will know every song and be up dancing and singing along.

Many of our clients have been using this show to celebrate 40th - 75th Birthdays. Bring back the real music!! With influence from the USA, British and Australian charts this is the ultimate party night for you. We play all your favourite one hit wonders and hits from the world's biggest recording artists and bands. Retro Music works with you prior to your function to fine tune your playlist for the evening. We are always happy to take requests on the day. Party hard the way you used to, with all your 80's favourite sing along classics.

We have a variety of props and large 80s style backdrops for your event including our huge 80s Ghetto Blaster backdrop. Add them to your 80s DJ hire. Our huge inflatable Rubiks Cubes reallyset the mood as well as our Black UV glow light. Turn everything white into a glowing blue including your pollished teeth. Watch all the 80s video clips on our huge 3m wide video screen while dancing on our Disco LED Dance Floor. Over in the cornor you can teach your kids how to play Pac Man and introduce the to the the original Mario in Donkey Kong. Our original 80s cocktail video machines are a huge hit.

80s Ghetto Blaster Backdrop

Bring your event to life with our huge 80s backdrop banners for hire. Your themed 80s party just got even better with this in the back ground or as a main feature. Take a look at the exquisite detail our team has gone to create our 80s Ghetto Blaster scene with all your favourite artists.

Don't forget to purchase this design and others on our T-Shirt page.
Available in various large banner sizes, everything is possible, just ask.

80s One Hit Wonders Party
Retro One Hit Wonders of the 80s & Party Music. The biggest hits from 80s artists that quickly disappeared or never hit the Top 10 again. Great songs from Flock of Seagulls, Soft Cell, Michael Sembello, Bobby McFerrin, DeBarge, Dexys Midnight Runners, Katrina & the Waves, Deniece Williams, Violent Femmes, The Motels, UK Squeeze, The Vapours, Laura Branigan, Vanilla Ice, The Proclaimers, Toni Basil, Yazz, Bros, and Tiffany just to name a few. Australian artists also fall into this field including Real Life, The Venetians, Swanee, Deni Hines, Do Re Mi, The Choirboys and so on. Retro music styles including the 80's Pop, Rock, One Hit Wonders of the 80s, UK New Romantic Synth-Pop, USA Glam & Pop Rock and from Australia our home grown Australian Pub Rock & Pop from this fantastic decade in music.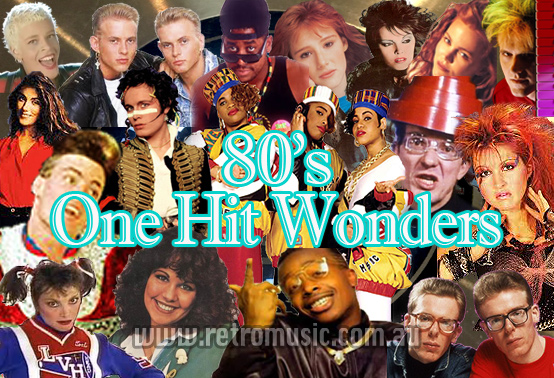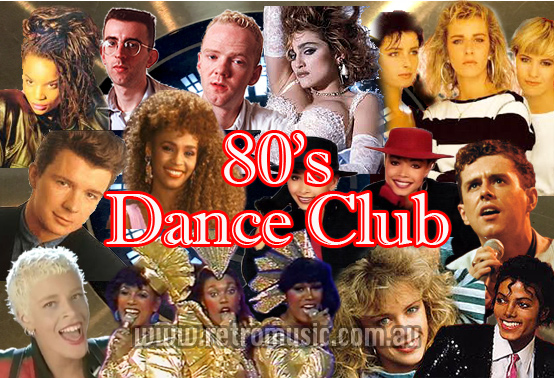 80s Top 40 Dance & House Music
Let's go back to the 80's Disco Party and Night club scene that was all over Sydney & the western suburbs. Every pub & RSL club had a huge room for the Disco three nights a week. Great 80s dance music was playing and the dance floor jam packed to Bananarama, Madonna, Frankie Goes to Hollywood, Michael Jackson, Prince and Whitney Houston. The 80s decade ended with house music from Black Box, Yazz, Technotronic the list is endless. Let my 80s retro DJ create the classic disco party with fun props and classic lighting effects including our huge mirror ball and simulators. Book the 80s DJ and ask about the lighting upgrade to include our 4k full colour laser and smoke machine. Nothing but the original 80s disco versions of extended dance mixes that built up the brand of DISCO and house music in this decade.
80's Glam Pop Rock, Big Hair Bands & Aussie Pub Rock
If your looking for an 80s rock party DJ who can play Australian pub rock and all your glam big hair bands from the 80s this is the theme night for you. From the USA we play Bon Jovi, Poison, Alice Cooper, Guns n Roses, AC DC, Van Halen and the biggest band in the world KISS. UK rock bands had huge chart hits from Def Leppard, Queen, Billy Idol, Thin Lizzy and Pat Benatar. Our home grown Australian Pub Rock leads the way with Midnight Oil, INXS, The Angels, Australian Crawl, Divinyls, Jimmy Barnes, Screaming Jets and the Choirboys. You can mix up all our 80s themes for a good mix across the decade, PLUS we always play your requests.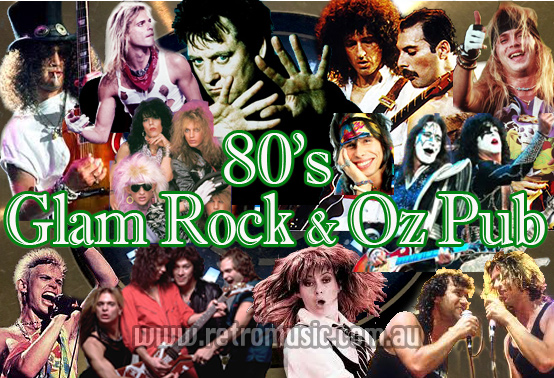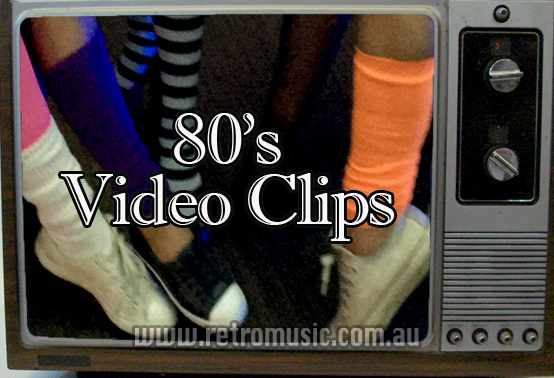 80s Video DJ Disco Night
All the Retro Video Clips Let's flashback to the 80's when the music video was all over the television. Our high powered video projector with 3 meter wide video screen sets the mood for an MTV or Countdown Party. Our clips come dricect from the record company master tapes, not stolen off the internet. This is the best video and audio experience you will ever hear or see. We can plug into your home TV or the venues inhouse projector. Watch all the crazy dance moves you learned, fantastic 80s fashion we all wore and the dance routines we all tried to learn. Talk to us about all our video options and lighting requirements.
Classic Video Game Machines & DJ Hire Package
Looking for that perfect Retro Event and want to make it feel like the old days filled with fun memories. While our Retro DJ hire is playing your favourite music why not play the original arcade machines. Games including Pac Man Galaga Frogger Scrambler & the original Space Invaders game. We have all the best Arcade games in Stand Up or Cocktail sit down machines. Pinball machines are also available. When you have a Retro Themed event or birthday hire everything from Retro Music the best supplier in one easy phone call.